Brett Johns made his United States MMA debut back in March and made an immediate impact as he submitted Walel Watson to win the vacant Titan FC bantamweight title.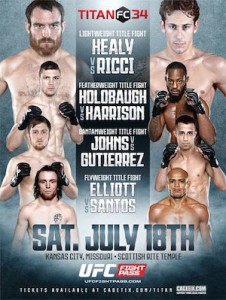 Johns (11-0) will return to the United States next week when he makes his first title defense as he is challenged by Ultimate Fighter alum Anthony Gutierrez at Titan FC 34.
Following the victory over Watson, it was evident that Gutierrez would be the next opponent for Johns. On the same night that Johns won the vacant Titan FC title, Gutierrez scored his sixth career victory as he defeated Austin Lyons by knockout. Johns recently told The MMA Report that he figured it was just a matter of time before the fight with Gutierrez would happen.
"I kind of knew it was going to be him. Titan brought him to the table," Johns said. "My coach and I sat down and we were really happy with the matchup. He is very skilled and it's going to be a fun fight for sure. He is completely opposite to Walel Watson. Watson's strengths are on the ground while Gutierrez's is on the feet. I enjoy having these challenges and this is why I do this sport. Gutierrez is just another challenge."
While Johns will discuss the striking that Gutierrez brings to the table, he knows that everyone at this level is a complete fighter so he has to be concerned with all aspects of the game. He respects his opponents abilities, but he is not going to allow Gutierrez take something from him that is extremely valuable. The Titan FC title.
The main goal for Johns is to walk away with the victory at Titan FC 34, no matter how it comes. It does not matter to him if the fans in attendance boo or cheer his performance. It's a bonus for him if he is able to put on a show and the fans appreciate his effort. A win over Gutierrez would be a big step for Johns, whose ultimate goal is to get to the UFC.
"This fight, I am looking to put a clinic on. I am looking for that UFC call up after this fight," Johns stated. "Fingers crossed. I am looking to put on a good show. Not only that, I love Titan. They are for the fans so I am looking to put on a show.
Be sure to check out Johns complete interview on Friday's edition of The MMA Report Live.