Andreas Spang was scheduled to face Justin Torrey in the opening round of the Bellator season nine middleweight tournament but he was pulled from the card on Friday.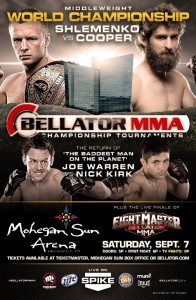 As the weight-ins were set to begin, Bellator tweeted that "Spang has been deemed ineligible to compete by the commission.
Following the weigh-in's, TheMMAReport.com reached out to the Mohegan Tribe Department of Athletic Regulation Director Mike Mazulli and he said that Spang "could not pass his pre-fight physical and was extremely dehydrated."
Replacing Spang in the opening round of the tournament tomorrow night will be Brennan Ward who will face Justin Torrey on the main card of Bellator 98 coming from the Mohegan Sun in Connecticut.
Ward was already scheduled to be on this card as Bellator has booked him to face Dave Vitkay on the preliminary card. With Ward being moved into the tournament on the day of the weigh-in's, Vitkay is now off the card.
The Bellator 98 fight card will proceed with eleven fights and the fight card lineup is below.
Main Card: (Spike TV – 8 p.m. ET/5 p.m. PT
Alexander Shlemenko (47-7) vs. Brett Cooper (19-8)
Brian Rogers (10-5) vs. Mikkel Parlo (9-1) *
Jason Butcher (6-0) vs. Giva Santana (18-2) *
Jeremy Kimball (10-3) vs. Perry Filkins (7-1) *
Justin Torrey (9-0) vs. Brennan Ward (6-1) *
Derek Anderson (9-0) vs. Patricky Pitbull (10-4)
Preliminary Card: (Spike.com – 6 p.m. ET/3 p.m. PT)
Josh Diekman (12-5) vs. Parker Porter (5-3)
Jeff Nader (5-5) vs. Mike Mucitelli (5-0)
Andrew Calandrelli (6-3) vs. Ryan Quinn (7-4-1)
Nick Piedmont (8-3-1) vs. Matt Bessette (11-4)
Glenn Allair (3-1) vs. Rico Disciullo (0-0)
* – Middleweight Tournament Opening Round