The Bellator Fighting Championships was in Tampa, Florida this past Friday night and I was cage side for the fight card.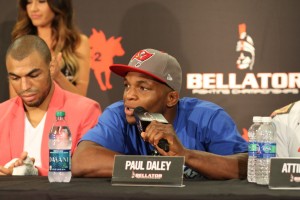 After the fight card was over, I had a chance to talk to Paul Daley and Bellator Chairman and CEO Bjorn Rebney.
Since signing with Bellator, there have been rumors about when "Semtex" would enter a Bellator tournament.
Daley told TheMMAReport.com that he has one more non tournament bout and should enter the Bellator welterweight tournament in January. Rebney confirmed that the former UFC/Strikeforce fighter will have one more non tournament bout and is being targeted to enter the Bellator welterweight tournament in January.
In the past, Daley has had issues with making the welterweight limit of 171 pounds and Rebney said that Daley told him he wanted to prove he could make 170 pounds.
"Paul has had some issues with his weight," Rebney said. "He said to me, I want to show you I'm taking a whole new approach and I want to fight at 170. I don't want to make this a catch weight fight and I want to show everyone that I can make 170."
Daley was able to make weight for his fight against Rudy Bears and got a knockout victory in the first round. He is expected to have his next fight in October during the seventh season of The Bellator Fighting Championships and it's not known at this time who his opponent will be.