The Bellator Fighting Championships held the weigh-in's for tomorrow night's Bellator 73 in Tunica, Mississippi earlier today and the fight card is now official.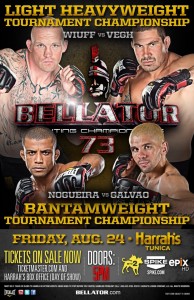 The main event tomorrow night will be the final of the Summer Series light heavyweight tournament as Travis Wiuff (206) meets Attila Vegh (204. 4) and the winner will receive a title shot against Christian M'Pumbu.
In the co-main event, Luis Nogueira (136) meets Marcos Galvao (136) in the bantamweight tournament final and the winner will face bantamweight champion Eduardo Dantas at Bellator 79 in the seventh season of Bellator.
The full weigh-in results are below:
Main Card: (MTV2/EPIX2 – 8 p.m. ET)
Travis Wiuff (206) vs. Attila Vegh (204. 4) *
Luis Nogueira (136) vs. Marcos Galvao (136) **
Ryan Martinez (264) vs. Mike Wessel (262.4)
Mike Mucitelli (204.4) vs. Matt Van Buren (205.8)
Preliminary Card: (Spike.com – 6 p.m. ET)
Harry Johnson (155 lbs) vs. Cosmo Alexander (155.6 lbs)
Brian Albin (205 lbs) vs. Jacob Noe (205.8 lbs)
Amaechi Oselukwue (184. 2 lbs) vs. Kelvin Tiller (190.2 lbs) ***
Joe Williams (170.6 lbs) vs. Andy Uhrich (170.2 lbs)
Jay Black (133 lbs) vs. Brian Hall (135.6 lbs)
Chris Coggins (146 lbs) vs. Zach Underwood (145.6 lbs)
* – Light Heavyweight Tournament Final
** – Bantamweight Tournament Final
*** – Catch weight fight of 190 lbs