The UFC has announced the fight night bonus winners for UFC on FOX 4 and lightweight Joe Lauzon took home two of the bonuses.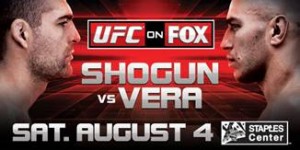 His fight with Jamie Varner was the fight on the night and he also got the submission of the night bonus.
Lauzon (22-7) has now won a fight night bonus in seven of his thirteen UFC fights and this was his fifth submission of the night bonus. With getting this bonus, he has received the submission of the night bonus in three of his last four fights.
The knockout of the night went to Mike Swick, who knocked out DaMarques Johnson in the second round and each bonus was worth $50,000.
This is the second time that Swick (15-4) has received a knockout of the night bonus and the win snapped a two fight losing streak. Tonight's win for him was his first win since UFC 99, which was a TKO victory over Ben Saunders.