The UFC recently announced that UFC on FOX 5 would be taking place on December 8th in Seattle and four new fights have been added to the card.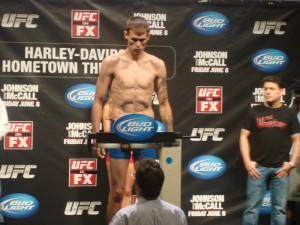 It was announced on Monday afternoon on the UFC website that two of the bouts are bouts rescheduled from UFC 151. Those bouts are Daron Cruickshank vs. Henry Martinez and Tim Means vs. Abel Trujillo.
The other two fights the UFC announced today was Brendan Schaub will meet Lavar Johnson in a heavyweight bout and Mike Swick meets Matt Brown in a welterweight bout.
It was not announced if any of the new bouts will be the fourth fight on the main card, but the bout between Swick and Brown could end up in that slot.
UFC on FOX 5 takes place on December 8th from Seattle's KeyArena and will be headlined by Benson Henderson defending the UFC lightweight title against Nate Diaz.
The current UFC on FOX 5 card is below:
Benson Henderson (Champ) vs. Nate Diaz – UFC Lightweight Title
Mauricio "Shogun" Rua vs. Alexander Gustafsson
BJ Penn vs. Rory MacDonald
Mike Swick vs. Matt Brown
Brendan Schaub vs. Lavar Johnson
Joe Proctor vs. Ramsey Nijem
Daron Cruickshank vs. Henry Martinez
Tim Means vs. Abel Trujillo