UFC flyweight fighter Ian McCall was arrested this past week in California after a warrant was issued for his arrest.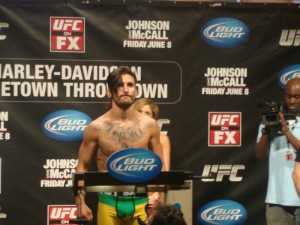 He was arrested on Tuesday in Laguna Beach, California and is currently in custody at the Orange County Central Men's Jail.
The news of his arrest was first reported by the Stu News Laguna and cited that undercover officers arrested McCall after they noticed him.
According to the report, McCall was "arrested without incident for two Harbor Court warrants for possession of narcotic paraphernalia, possession of prescription meds without a valid prescription, and driving on a suspended license."
In June, McCall was charged with driving with a suspended license and that was a probation violation for the UFC fighter. He did not appear in court for this charge and a warrant was issue for his arrest. He will remain in custody until September 13th, when he is due back in court.
McCall (11-3-1) entered the UFC earlier this year and was one of the four fighters in the inaugural flyweight tournament. He took on Demetrious Johnson at UFC on FX 2 and the fight ended in a draw. They had a rematch at UFC on FX 3 in June and Johnson won the rematch.
He was scheduled to return to the octagon at UFC on FOX 4 against John Moraga, but he pulled out of the fight with an injury.