UFC light heavyweight champion Jon "Bones" Jones is one of the biggest names in the sport of mixed martial arts and he now has a sponsorship deal with Nike.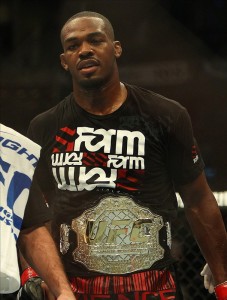 The news of this sponsorship deal was originally announced by MMA Fighting and Jones has confirmed the story on his Twitter page.
"Blessed to be signed by the biggest sports apparel company in the world #NikeDreams do come true." Jones wrote on Twitter.
This is the first time that Nike has given a global sponsorship deal to a mixed martial artist and Nike is expected to make an announcement on their plans for the fighter soon.
Nike has done contracts with Anderson Silva and Yoshihiro Akiyama, but those sponsorship deals were for their home countries and not globally.
With this sponsorship deal, "Bones" appears to becoming the face of mixed martial arts and could bring more fans to the sport. He is set to defend the UFC light heavyweight title on September 1st in Las Vegas at UFC 151 against Dan Henderson and it will be his fourth title defense since winning the title last year.