The next Bellator light heavyweight tournament will start in season eight and one of the fighters in the tournament will be former Strikeforce champion Renato "Babalu" Sobral.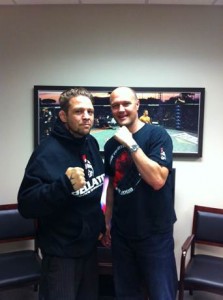 Bellator announced the signing on Friday and Babalu is currently recovering from hand surgery. His Bellator debut will come in the tournament, which will begin in January of 2013.
"Babalu is an awesome addition to the Bellator family," said Bellator Chairman & CEO Bjorn Rebney. "He's beaten some of the greatest fighters in the sport, and poses a tremendous threat to every fighter in our Light Heavyweight Division. From a fans perspective, he's incredibly exciting to watch, and I'm expecting big things from Babalu in January on Spike."
Since his release from the UFC, Babalu has won six of his last eight fights and recently defeated Tatsuya Mizuno by an armbar submission at ONE FC. Four of his last seven victories are by submission and he has 19 career wins by submission.
"I'm really happy to be a part of the Bellator family," Sobral said. "This is my new home, and I can't wait to get into the tournament. My only wish was that it could all be in one night, but I don't think we can do that, so I'll just put one more tournament under my belt, and I'm going to take this opportunity and get my shot at the Bellator World Title."
Babalu is the first fighter that has been announced for the tournament and Bellator will be announcing more fighters in the next couple of months.