The UFC on FOX 4 main card will begin at 8 p.m. ET/5 p.m. PT and the first fight will feature the return of Mike "Quick" Swick (14-4) takes on former Ultimate Fighter finalist DaMarques Johnson (18-10).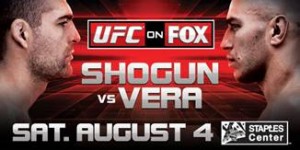 Swick was a contestant on the first season of "The Ultimate Fighter" and has gone 9-3 in the UFC. He has been out of action for two and a half years with injuries and an illness.
The fighter who trains out of American Kickboxing Academy recently talked about the illness. "I would wake in the night feeling like I had a heart attack. I wasn't getting any sleep at all during camps or even during the week of fights," Swick said. "I got misdiagnosed a couple of times but eventually they found it was  esophageal spasm, which would give me cramps and pains when I was trying to sleep."
"I never thought about wanting to quit myself. But there was a time where I thought my career might be over, talking to the doctors. If I couldn't eat like an athlete, if I couldn't rest my body, I was finished. But, slowly, I learned to control the condition through diet. The only thing diet-wise that is different for me is I miss all those great foods that taste good. Career wise, it is under control."
Swick enters this fight on a two fight losing streak, with those losses coming against Dan Hardy and Paulo Thiago. With having two years off, he does believe that he is a faster fighter.
"I'm faster than I've ever been, I've worked speed non-stop for two years, and I'm more motivated and hungry," Swick said. "That fire that used to burn is even bigger. So I'm definitely far from done, and I think this is a whole new beginning for me."
Johnson was a finalist during the ninth season of "The Ultimate Fighter" and has lost three of his last five fights. His last fight was a lost against John Maguire at UFC on FUEL TV 2 and has never lost back to back fights in the UFC. He recently said that there is a 50% chance he will win the fight and their is a 100% chance that someone is going to get knocked out.
Swick will have a slight advantage in reach and it's unlikely that this fight will go to the ground. Both fighters have identical statistics in striking accuracy, strikes landed per minute and striking defense.
This fight should be one of the most exciting fights to watch on Saturday night and don't blink, because you may miss a knockout.