The second fight of the UFC on FOX 4 fight card took place in the UFC featherweight division and Manny Gamburyan snapped a three fight losing streak with a unanimous decision victory over Michihiro Omigawa.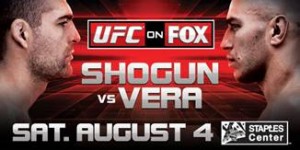 Gamburyan (14-8) opened the fight with a flying knee, which set the tone for a fight that could end up winning the fight of the night bonus.
Both fighters were able to connect with strikes that had their opponent backpedaling, but could not finish the fight. Gamburyan came close to finishing the fight in the third round when he landed several strikes that had his opponent running away. However, Omigawa was able to survive the strikes of Gamburyan.
One of the key parts of this fight was the takedowns of Gamburyan, which he successfully have seven of them and Omigawa was unable to take his opponent down. Gamburyan was able to land more significant strikes and kicks. He landed 57% of his strikes, where Omigawa only landed 38%.
Omigawa (13-12-1) has now lost two straight and four of his last five fights in the UFC. All of his fights in the UFC have gone to a decision and he may end up being cut by the UFC after this fight.
UFC on FOX 4 Results:
Manny Gamburyan defeated Michihiro Omigawa via unanimous decision (29-28, 29-28, 30-27)
John Moraga defeated Ulysses Gomez via knockout (strikes) – Round 1, 3:46