The fighters on the UFC on FOX 4 preliminary card have come out looking for finishes and that continued at Rani Yahya used a north-south choke to submit Josh Grispi in the first round.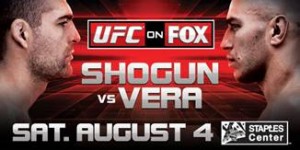 Yahya (17-7) wanted to take the fight to the ground from the start and he was eventually able to do that.
Grispi landed a leg kick, which Yahya fell to the mat. From that moment, the fight stayed on the ground. The submission specialist was then able to transition into the north-south position and get a submission attempt in. He did not have a full north-south submission in, but it was enough to get Grispi to tap out.
This was Yahya's 15th win by submission and the third time he has won a fight by a north-south choke. He has now won two of his last three fights and the only lost during this streak came against former title contender Chad Mendes.
Grispi (14-4) has now lost three in a row since coming to the UFC via the WEC merger. His last two losses have come by submission and he is now subject to being cut by the UFC.
UFC on FOX 4 Results:
Rani Yahya defeated Josh Grispi via submission (north-south choke) – Round 1, 3:15
Phil De Fries defeated Oli Thompson via submission (face crank) – Round 2, 4:16
Manny Gamburyan defeated Michihiro Omigawa via unanimous decision (29-28, 29-28, 30-27)
John Moraga defeated Ulysses Gomez via knockout (strikes) – Round 1, 3:46