The Bellator Fighting Championships will be starting their seventh season at the end of September and have been announcing bouts for the upcoming season over the past couple of weeks.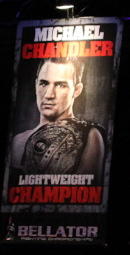 The California based organization has not announced when lightweight champion Michael Chandler will step into the cage next. He is scheduled to have his next fight against Rick Hawn, who won the season six lightweight tournament earlier this year.
Bellator Chairman & CEO Bjorn Rebney told TheMMAReport.com on Thursday that it was looking like Chandler's next appearance in the Bellator cage would not happen until the beginning of Bellator's launch on Spike.
"It's looking like at this point that it will be early in the Spike launch," Rebney said. "I mean super early in the Spike launch. We look at it from the perspective of just big fights. You have Chandler, who had the fight of the year last year and then you have Rick Hawn who is a U.S. Olympian."
Chandler (10-0) was asked by TheMMAReport.com if he felt that it was likely for him to return at the beginning of 2013, he said that he wants to fight as soon as he can.
"I have been very vocal that I want to fight," Chandler said. "I am a fighter and I want to fight. Right now I stand before you, I'm happy, healthy, hungry and ready to fight. I want to make it happen as soon as possible."
He would like to return before the end of the year, but Bellator appears to want him to fight in the early part of 2013. A majority of Bellator's known fighters are not likely to fight during the upcoming season seven, which has angered some fans of the promotion. Fans would like to see fighters like Chandler and welterweight champion Ben Askren fight in the upcoming season, but that appears it will not be the case.
If Chandler does not return by the end of the year, that means he will only have stepped into the cage one time in 2012. Rebney would like to see his champions defend their titles between two and three times a year. With the current television situation, that has not been possible for them to do. Hopefully with the Spike deal, the champions will be able to defend their titles more often.