Dan Hardy will be fighting his him home town of Nottingham, England on Saturday in the co-main event of UFC on FUEL TV 5 against Ultimate Fighter winner Amir Sadollah.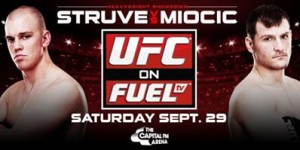 Hardy (24-10, 1NC) recently snapped a four fight losing streak at UFC 146 against Duane Ludwig, with a first round knockout victory and won the knockout of the night bonus.
One of Hardy's sponsors is Fear the Fighter and the company has released an interview done with the British welterweight fighter.
During the interview, Hardy says he takes it as a personal insult when another fighter signs a contract to fight him.
"Everyone should fear me that steps in against me," Hardy says. "If someone signs a contract to fight me, I take that as a personal insult. They think they can beat me. They think they are better than me and they think they can work harder than me and I disagree. If someone is prepared to get into the octagon and face me, than they have to expect the worse. I'm going to do everything I can to beat them and for me, the 15 minutes I'm fighting is the last 15 minutes of my life."