The second fight on the UFC 152 pay-per-view will see the return of Matt Hamill (10-4) as he has come out of retirement and will take on Roger Hollett (13-3).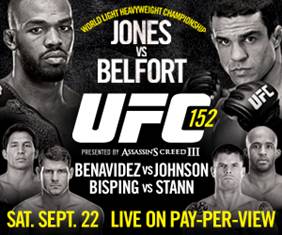 When the UFC announced that Hamill would be coming out of retirement, Hollett was announced as his opponent.
However, the UFC pulled Hollett from the fight for an unknown reason and was replaced by Vladimir Matyushenko.
Matyushenko ended up pulling out of the fight less than two weeks ago and the UFC put Hollett in the fight. After the announcement, it came out that Hollett was pulled from the fight originally due to a contract issue with the Bellator Fighting Championships.
Hollett only had one fight in Bellator, which was a win against John Hawk last year by split decision. He is currently on a five fight winning streak with three of those wins coming by either submission or knockout.
Prior to his retirement, Hamill was on a two fight losing streak with the losses coming against former UFC champion Quinton "Rampage" Jackson and top contender Alexander Gustafsson.
Before his recent losing streak, he had won five in a row with one of those wins being a disqualification win over Jon Jones. Jones dominated Hamill, but used illegal elbows when he was in the mount position and the referee disqualified Jones.
Both fighters are known for their ability to finish their opponents as Hamill has six knockout victories and Hollett has finished his opponent in 11 of his 13 wins. Hamill will likely look to take the fight to the ground and use his wrestling attack. When he is unable to get a takedown, he has struggled.
TheMMAReport.com predicts Hamill will get a victory on Saturday night and will win by unanimous decision over Hollett, who is making his UFC debut.