Before the two title fights on the UFC 152 pay-per-view, there will be a key bout in the middleweight division as Michael Bisping (23-4) meets Brian Stann (12-4).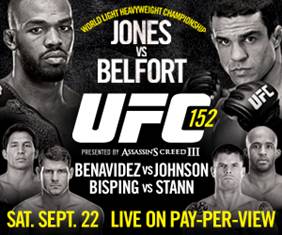 The winner of this fight can make a case for a title shot and Bisping believes an impressive win over Stann should earn him a title shot. On the other hand, Stann has said he will not ask for a title shot if he wins tomorrow night.
Bisping enters this fight coming off a lost to Chael Sonnen at UFC on FOX 2 and was on a four fight winning streak prior to that fight. He has gone 8-3 in the UFC middleweight division and a win over Stann would be his biggest victory as a UFC middleweight.
Just like Bisping, Stann has won four of his last five and his only lost during this period was against Sonnen at UFC 136 last year. He returned to the octagon earlier this year and defeated Alessio Sakara by knockout in the first round.
Both fighters will be looking for the finish and Stann has won his last four fights by either knockout or submission. The weakness in Stann's game is the ground and Bisping will likely look to take the fight to the ground. If Stann can stop the takedown of the British fighter, he can fight the type of fight he wants.
TheMMAReport.com predicts that Bisping will grind his way to a unanimous decision, but would not be surprised if Stann gets a knockout victory.