UFC light heavyweight champion Jon Jones (16-1) will be making his fourth title defense tonight against former champion Vitor Belfort (21-9) in the main event of UFC 152 at the Air Canada Centre in Toronto.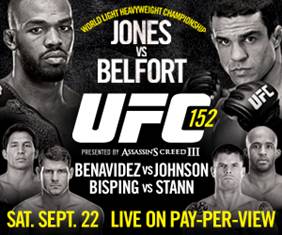 Jones is one of the biggest faces in mixed martial arts today and has been dealing with various issues over the past couple of months, which includes turning down a fight against Chael Sonnen at UFC 151.
With turning down a fight against Sonnen, UFC 151 was canceled and Jones was moved to the UFC 152 card. When he turned down the UFC 151 fight, fans reacted and he will likely not be cheered when he enters the cage tonight at the Air Canada Centre.
Belfort decided to step up to fight Jones and has not fought at light heavyweight since 2008. He recently moved his training camp to the Blackzilians and he will have Rashad Evans in his corner tonight, who is the last person to face Jones and is a former training partner of the champion.
Having Evans in his corner will be an advantage for Belfort but he will have a reach disadvantage in this fight, just like Evans did against Jones. Jones will have a ten inch reach advantage and Belfort will have to be able to get in the inside to take away the reach advantage.
Belfort will look to throw his straight left, but Jones is a fighter that likes to extend his hands to stop fighters from getting close to him. "Bones" may look to take Belfort to the ground and make him fight off his back. Jones has shown what he can do once he gets the fight to the ground, but will have to watch out of submissions, since "The Phenom" is a black belt in jiu-jitsu.
If Belfort pulls off one of the biggest upsets in UFC history, it will likely happen early in the fight. 16 of his 21 wins have come in the first round, but has struggled when the fight goes at least three rounds. He has seen the third round seven times in his career, but has only one two of those fights.
Jones is a fighter that wants to finish his opponent and he was not happy with not being able to finish Evans in his last fight.
TheMMAReport.com predicts a Jones victory in the second round and Belfort has a punches chance. If he can close the distance, he has the ability to knockout the champion and it would be one of the biggest upsets in UFC history.