Following the conclusion of the UFC 152 post fight press conference, UFC President Dana White talked to the media about everything going on in the UFC.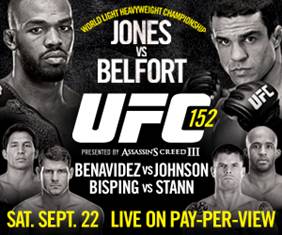 White was animated during the post fight press conference about an article written in the Toronto Sun, which was titled "UFC looking like a jugger-not."
Along with talking about the Toronto Sun article, he also talked about the policy of Bellator to match contract offers for fighters that they have released, Bob Arum, relation with Quinton "Rampage" Jackson and much more.
Check out the highlights on the media scrum below and Bellator Chairman and CEO Bjorn Rebney is scheduled to be a guest on this week's "The MMA Report Podcast" and will be asked about the comments that White made yesterday.