The UFC 152 preliminary card will start on the UFC Facebook page with a welterweight bout as TUF alum Kyle Noke (19-6-1) makes his UFC welterweight debut against Charlie Brenneman (15-4).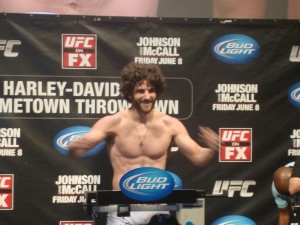 This fight was originally scheduled to take place at UFC 151 on September 1st, but the fight card was canceled and the bout was moved to UFC 152.
Noke has gone 3-2 in the UFC as a middleweight after entering the promotion during the eleventh season of "The Ultimate Fighter." He won the first three fights in the UFC, but has lost two straight fights.
After losing his first UFC fight to Ed Herman in 2011, Noke returned at UFC on FX 2 to take on Andrew Craig. After dominating the first round in his home country of Australia, Craig was able to take the final two rounds to get the victory. Following the lost to Craig, Noke decided it was time to move down in weight to the welterweight division.
Brenneman has had an up and down UFC career as he has gone 4-3 in the UFC. His three defeats in the UFC have come against notable fighters Johny Hendricks, Anthony Johnson and Erick Silva.
His most notable victory game in June of 2011 when he stepped in on 24 hours notice to take on Rick Story in his home state of Pennsylvania. He dominated Story by using his wrestling to get a unanimous decision victory.
Noke is in need of a win in this fight since he has lost two in a row. Brenneman will look to use his wrestling to control the fight, but Noke does have a solid ground game and has eight career wins by submission. The key for Noke will be to stop the takedown of Brenneman and get him out of his comfort zone. For Brenneman, he will look to take the fight to the ground and use his ground game to get the victory.
This fight has the potential to be a fight that some fans may not enjoy and that's the likely reason the UFC decided to put it on the Facebook portion of the preliminary card and not the FX portion of the card.
TheMMAReport.com gives a slight edge to Noke in the fight, but would not be surprised if Brenneman is able to get a decision victory.