The final fight on the UFC on FUEL TV 5 preliminary card was a light heavyweight bout as Kyle Kingsbury (11-4, 1NC) taking on UFC newcomer Jimi Manuwa (11-0).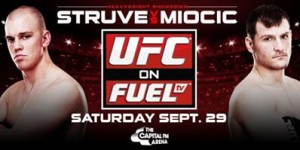 Manuwa looked for a left hook as the fight started, but Kingsbury was able to get the takedown because of the punch. He went work on his neck, with Kingsbury in side control.
Manuwa was able to get back to his feet and would stop a takedown attempt of his opponent. He landed a left hook that had Kingsbury on his heels and landed another strike that dropped his opponent. The action would get back to the feet and Manuwa landed a knee that hurt Kingsbury and began to pour it on, but Kingsbury was able to make it to the bell.
Between rounds, Kingsbury's cutman had to work on the left eye of the AKA fighter with the eye starting to shut. The ringside doctor looked at the eye and allowed the action to continue.
As the round started, Manuwa continued to land strikes and Kingsbury went for a takedown, which was successful. Manuwa would eventually get back to his feet, but Kingsbury would get him in the clinch on the cage.
With the action off the fence, Manuwa continued his dominance in the striking game and he ended up taking the fight to the ground. After an unsuccessful submission attempt, the action returned to the feet. Kingsbury was able to get the action back to the ground and control the rest of the round.
After the second round was over, the cageside doctor looked at the left eye of Kingsbury. The eye was completely shut and the fighter could not see out of it. Because of that, the doctor stopped the fight and Manuwa (12-0) gets a victory in his UFC debut.
UFC on FUEL TV 5 Result:
Jimi Manuwa def. Kyle Kingsbury via TKO (doctors stoppage) – Round 2, 5:00
Akira Corassani def Andy Ogle via split decision (28-29, 30-27, 29-28)
Brad Tavares def. Tom Watson via split decision (30-27, 28-29, 29-28)
Gunnar Nelson def. DaMarques Johnson via submission (rear-naked choke) – Round 1, 3:34
Robbie Peralta def. Jason Young via knockout (strikes) – Round 1, :23