The UFC announced earlier today that featherweight champion Jose Aldo injured his foot and was out of the UFC 153 main event against Frankie Edgar.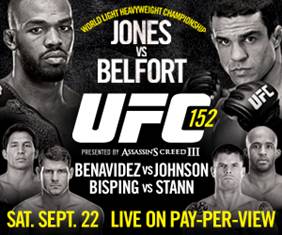 It has not been announced if Edgar will stay on the card on October 13th from the HSBC Arena in Rio de Janeiro, Brazil, but two fighters have already said they would be willing to face Edgar.
Team Alpha Male fighters Urijah Faber and Chad Mendes have sent out tweets that they are willing to step up and face the former lightweight champion.
U know I'm in for a good fight, I'm sure @chadmendes wld b eager 4 that [email protected]danawhite @ufc @mmainc @mikemmainc sucks 4 @josealdojunior

— Urijah Faber (@UrijahFaber) September 11, 2012
Bulking up for the @frankieedgar fight in case @danawhite @ufc come a knocking. twitter.com/UrijahFaber/st…

— Urijah Faber (@UrijahFaber) September 11, 2012
Let's make it for the interim title and IM IN!!

— chad mendes (@chadmendes) September 11, 2012
It would seem more likely to have Mendes step in against Edgar than Faber. Faber has been a bantamweight since coming to the UFC and Mendes is coming off a knockout victory at UFC 148.
The UFC has not said how long Aldo will be out, so it's unknown if the UFC is considering having Edgar face someone in an interim title fight.