Vitor Belfort was a guest on last night's edition of "UFC Tonight" on FUEL TV to promote his upcoming fight at UFC 152 against Chael Sonnen.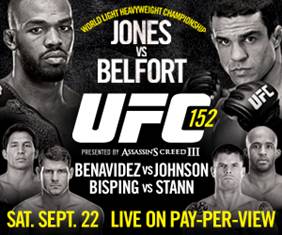 During his appearance on the weekly news program, Belfort explained why he felt he deserved the title shot against Jones and way former middleweight title contender Chael Sonnen did not.
"I have history with the UFC," Belfort said. "I have been a champion in the light heavyweight division and in my scenario that's what I think. I think the event should continue. Jon Jones vs. Vitor Belfort makes sense. They way he got beat by Silva, he doesn't deserve to go for a title shot."
Belfort is thankful that Jones did not accept the fight with Sonnen at UFC 151 and said he went after a fight with Jones the professional way.
"I really think the way I made the approach to fight Jones was through the professional way. I sent texts to the guy that are the boss."