One of the preliminary bouts on tomorrow's UFC on FX 5 card was supposed to be a lightweight bout between Dennis Hallman and Thiago Tavares.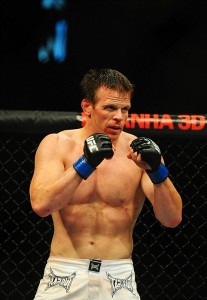 However, the fight was scratched when Hallman was unable to make the lightweight limit of 156 pounds.
During the weigh-in show on FUEL TV, Ariel Helwani reported that Hallman was seven pounds overweight and Tavares was only willing to take the fight if the fighter was three pounds overweight.
However, Hallman went to Twitter to say that the reason the fight was not taking place was because of personal reasons.
@arielhelwani get your facts straight, I was three over at time of weigh ins and still had two hours. I am out of fight for personal reasons

— Dennis Hallman (@DennisHallman) October 4, 2012
@arielhelwani I was 2 and 1/2 over at weigh ins but am having personal issues. The UFC is helping me thru my problem. God bless @danawhite

— Dennis Hallman (@DennisHallman) October 4, 2012
Following his tweets, Helwani posted a story on MMAFighting.com, which included quotes from the UFC fighter. Hallman did not go into detail on what the personal issue is, but did state that he has talked to UFC President Dana White about his personal situation.
With Hallman vs. Tavares being off the card, the UFC has announced that the Carlo Prater vs. Marcus LeVesseur will now take place on the preliminary card on FUEL TV, instead of the Facebook prelims.
It has been reported by MMAJunkie.com that the UFC has paid Hallman his show and win bonus for his scheduled UFC on FX 5 fight against Tavares. Also, MMAFighting.com has reported that Hallman told the website that he has been cut from the organization.
Hallman is one of the fighters that is to small for one weight class and has trouble making weigh in the smaller weight division. He will need to take some fights in regional shows and prove to the UFC that he can make weight at whatever weight class he elects to fight in.