Georges St-Pierre will be making his return to the octagon on November 17th at UFC 154 in Montreal against Carlos Condit and the fight will be a welterweight title unification bout.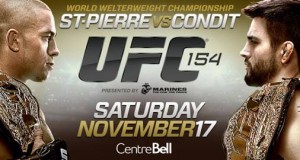 St-Pierre has been working his way back from a knee injury, which has kept him on the sidelines since last year.
During this week's edition of "UFC Ultimate Insider" on FUEL TV, the weekly UFC program goes inside the rehabilitation of St-Pierre.