Ian McCall is one of the top flyweight fighters in the world, but is still looking for his first UFC victory.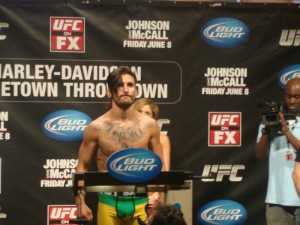 He made his debut in the UFC against Demetrious Johnson in March with the fight ending in a draw. In the rematch, Johnson won by unanimous decision and McCall has been on the sideline since then.
He was scheduled to return at UFC on FOX 4, but he had to pull out of the fight with an injury. He was recently asked who he would like to fight next and he mentioned the name Louis Gaudinot.
"I would beat the green out of that guy," McCall said. "At the expo, everywhere I went people were saying that Gaudinot is calling you out. He seems like a nice guy, he is pretty good, but I think I would beat him up pretty bad."