UFC heavyweight Travis Browne (13-0-1) will be headlining his first UFC card tomorrow night at the Target Center in Minneapolis and took time this week to visit the Minnesota Vikings during one of their practices.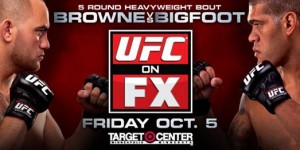 Browne never got the opportunity to play organization football, since his high school did not have a team.
Even thought he never played organization football, the UFC heavyweight believes that he would have been a good player.
"My high school – San Diguito – didn't have a football team so I never got a chance to really play other than with my friends at home," Browne said. "I think I'd have been pretty good, but I never got the chance. I'm a huge fan, though, and today was a great distraction from Friday's fight."
Browne addressed the team after being introduced by head coach Leslie Frazier and defensive end Jared Allen, who is a huge fan of mixed martial arts.
He enjoyed watching the Vikings go through their practice and what they did to get ready for their next game.
"It was cool watching them in their element, and seeing top guys from another tough sport train so hard.  I think being a UFC fighter and being a top football player are two of the toughest jobs in sports."