The UFC returns to Brazil tonight for UFC 153 and this is the third time that the UFC has held a card in Brazil in the last 14 months.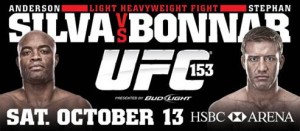 The pay-per-view portion of the card will begin at 10 p.m. ET with six fights, which will include several Brazilian fighters including Anderson Silva, Antonio Rodrigo Nogueira and Erick Silva.
Anderson Silva (30-4) vs. Stephan Bonnar (17-7)
This is a fight that doesn't mean much in the rankings and is a "fun fight" according to UFC President Dana White. Bonnar has been put into a great situation has doesn't have much to lose. Hardly anyone thinks he can and Silva has everything to lose. If Bonnar pulls off the upset, a potential super fight with Georges St-Pierre could be out the window.
This is the third time that Silva has had a light heavyweight fight with the two previous bouts ending in the first round with knockout victories over James Irvin and Forrest Griffin. Coming into this fight, Silva has stopped his last four opponents with either a submission or knockout and will look to improve his UFC record to 16-0.
One month ago, Bonnar was essentially a retired fighter before he received the call about taking on Silva. This will be his first fight in 11 months and is currently on a three fight winning streak. He has never been knocked out in his career and the two TKO losses on his career were because of a cut.
Bonnar will need to follow the gameplan that Chael Sonnen has used against Silva. He needs to take the fight to the ground and use the size advantage that he will have. Silva will look to keep the fight standing and use the speed advantage he will have.
Prediction: Anderson Silva by TKO in first round
Antonio Rodrigo Nogueira (33-7-1, 1NC) vs. Dave Herman (21-4)
This fight was not scheduled to happen until all the injuries happened to this card and Nogueira told Dana White that he wanted to fight on this card. This will be his first fight since his lost to Frank Mir at UFC 140, which his arm was broken in the fight. He was supposed to return at UFC 149, but his arm was not fully recovered and had to pull out of the fight.
Herman enters this fight on a two fight losing streak, with knockout losses against Stefan Struve and Roy Nelson. Three of his four career losses are by knockout and has never been submitted in his career. Herman has said on multiple times that jiu-jitsu does not work in MMA and he faces an opponent that is known for his jiu-jitsu.
Nogueira would like to be the first fighter to submit Herman and show that he is still one of the top heavyweights in the UFC. Herman will need to keep the fight standing and not go down to the ground, where Nogueira is at his best.
Prediction: Antonio Rodrigo Nogueira by submission in second round
Glover Teixeira (18-2) vs. Fabio Maldonado (18-5)
Teixeira is one of the best prospects in the UFC light heavyweight division and White has said that a lot of fighters do not want to step into the octagon with him. He was one of Chuck Liddell's training partners and is currently on a 16 fight winning streak. He made his long awaited UFC debut earlier this year and defeated Kyle Kingsbury by submission in the first round.
Maldonado is a former professional boxer and 12 of his career wins in MMA have come by knockout. He entered the UFC in late 2010 and won his debut against James McSweeney by TKO, but has lost his last two fight and both have come by decision.
Both fighters have the ability to knock their opponents out, but Teixeira will have an advantage if the fight goes to the ground. Overall, Teixeira is the better fighter and should be able to get a victory.
Prediction: Glover Teixeira by TKO in third round
Jon Fitch (26-4-1, 1NC) vs. Erick Silva (14-2, 1NC)
Fitch will return to the octagon after dealing with injuries and this will be his first fight since UFC 141 last December. He has only fought twice in the last 20 months and wants to be more active. He is a former title contender and feels he has become a better fighter since his last fight.
Silva has proven to be one of the best prospects in the UFC welterweight division and has two first round victories in three UFC bouts. He has only gone the distance three times in his career and holds eight wins by submission.
In his UFC career, Silva has not gone past the first round and Fitch will look to push him into later rounds. Fitch is known for getting decision wins, but he will look to get a finish against Silva and show that he is still one of the best welterweights in the UFC. Silva will need to stop the takedown attempts of Fitch to give himself a great chance of winning this fight.
Prediction: Jon Fitch by decision
Phil Davis (9-1, 1NC) vs. Wagner Prado (8-0, 1NC)
This is the second fight between these two light heavyweight fighters as the first fight ended in a no contest when Davis accidentally poked Prado's eye and he was unable to continue.
After starting his UFC career with five straight victories, Davis is 0-1, 1NC in his last two fights, which includes a lost to Rashad Evans in a number one contenders bout. He is a former college wrestler, but has shown improvements in his striking over his past couple of fights.
Prado entered the UFC this year with seven of his fights ending with a knockout and finished his opponent in the first round on six occasions. He is a member of Team Nogueira, which there will be seven fighters from the team on this card.
The first fight did not last long and neither fighter was able to put in their gameplan. Prado will need to be able to stop the takedown attempts of Davis. On the other side, Davis will need to stay away from striking battle with Prado.
Prediction: Phil Davis by decision
Demian Maia (16-4) vs. Rick Story (14-5)
This will be the second fight for Maia in the UFC welterweight division as his first fight in the division took place at UFC 148 against Dong Hyun Kim. He won the fight early in the first round by TKO when Kim suffered an injury.
Story started his UFC career with wins in six of his first seven fight, but then lost back to back fights last year. He got back on the winning side earlier this year with a win against Brock Jardine at UFC on FX 4.
Story is a wrestler and Maia is a jiu-jitsu fighter, which means the fight will likely be a stand up fight. Story will want to impose his will and grind out a victory. Maia has shown improvements in his striking game, which has led to the fight going to the ground.
Prediction: Demian Maia bu submission in first round