The UFC 153 Preliminary Card is scheduled to start at 7 p.m. ET with two fights scheduled with the opening fight being a lightweight fight and the second fight being in the middleweight division.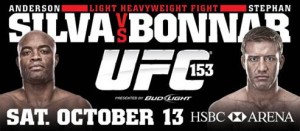 Both fights will be streamed on the UFC Facebook page and all fans have to do is "like" the UFC on Facebook to view both of these fights.
Cristiano Marcello (12-4) vs. Reza Madadi (12-2)
This will be a lightweight bout as both fighters make their second appearance in the UFC octagon. Marcello was a contestant on season 15 of "The Ultimate Fighter" and Madadi made his debut at UFC on FUEL TV 2 in Sweden.
Marcello is mostly known for being the jiu-jitsu coach at Chute Boxe, which he coach notable fighters as Wanderlei Silva, Cris Cyborg and many more. With that background, his strength in his ground game and 9 of his 12 victories are by submission. His weakness is his striking game, which was noticeable during TUF. In his lost to Justin Lawrence on the reality show, he keep his chin up and it lead to him being knocked out in the fight.
Madadi won his UFC debut against Yoislandy Izquierdo back in April with a submission in the second round and 7 of his 12 victories are by submission. He is currently on a seven fight winning streak and usually finds a way to get the fight to the ground.
Both fighters like to finish the fight on the ground, but the best gameplan for Madadi would be to keep this fight standing. Marcello is excellent on the ground and it's the best chance for him to win. If the fight goes to the ground, Madadi could be in trouble.
Prediction: Reza Madadi by TKO in second round
Luiz Cane (12-4, 1NC) vs. Chris Camozzi (17-5)
This will be the first of two middleweight bouts on the card and Cane is making his UFC middleweight debut in the fight. He has dropped three of his last four fights and has not stepped into the octagon since UFC 134 last year. He was scheduled to make his middleweight debut earlier this year against Yushin Okami at UFC 150, but he had to pull out of the fight with an injury.
Camozzi is in his second stint in the UFC and is currently on a two fight losing streak. After being released after his defeat at UFC 127 against Kyle Noke, he won a fight outside the UFC and returned at UFC 137. He lost on that night to Francis Carmont and has defeated Dustin Jacoby and Nick Catone in his last two fights.
Cane will have a slight reach advantage in this fight, but Camozzi will be able to counter that by using his kicks, which he has done in the past. Camozzi likes to be the aggressor in the fight, but has struggled in the grappling department. Camozzi will look to wear down his opponent and Cane is known for either getting a knockout victory or being the one who is knocked out.
Prediction: Luiz Cane by TKO in the first round