Once the UFC 153 preliminary card on Facebook is finished, the rest of the preliminary card can be seen on FX.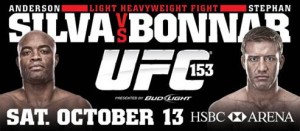 This portion of the preliminary card will feature four fights with the broadcast starting at 8 p.m ET on FX.
Rony Jason (12-3) vs. Sam Sicilia (11-1)
This will be the headliner of the preliminary card with Jason making his first appearance in the octagon since winning the featherweight division of TUF: Brazil and is currently on a six fight winning streak.
Sicilia is also a veteran of TUF, which he was a contestant on the 15th season. He is on a seven fight win streak and 10 of his victories are by either knockout or submission.
Jason is a Muay Thai fighter and the strength of Sicilia is his striking. He has one punch knockout power, but lacks other strengths. In his UFC debut, Jason showed his counter punching skills and Sicilia can be reckless in his striking. One of these fighters will score a knockout victory and will not likely last long.
Prediction: Sam Sicilia by TKO in first round
Gleison Tibau (34-8) vs. Francisco Trinaldo (11-1)
This will be the second and final lightweight bout on the card that matches up two Brazilian fighters squaring off in their home country. Tibau is a 16 fight veteran of the UFC (10-6) and has won six of his last eight fights. After winning three in a row, he lost his last fight to Khabib Nurmagomedov at UFC 146 by decision.
Trinaldo was a contestant on TUF Brazil and is currently on a five fight winning streak. He made his official UFC debut earlier this year at UFC 147 and defeated Delson Heleno by TKO in the first round. That was a middleweight fight and moves back to the lightweight division for this fight, which is his natural weight class.
This fight is a huge step up in competition for Trinaldo. He has finished eight of his opponents with five of those wins coming by knockout. This appears to be a fairly even fight based on each others skills. Tibau should have the advantage on the ground and may grind out a decision victory.
Prediction: Gleison Tibau by decision
Diego Brandao (19-8) vs. Joey Gambino (9-1)
This is a featherweight bout which features Brandao, who was the TUF 14 featherweight winner and enters the fight after losing to Darren Elkins at UFC 146 by decision. Before the lost to Elkins, he had won four straight with all four victories coming by stoppage.
Gambino started his UFC career with nine straight wins and made his UFC debut earlier this year at UFC on FX 4. He took on Steven Siler, but was defeated in the first round by submission.
In his fight against Elkins, Brandao was unable to get off his back and was dominated. He will need to keep the fight standing, so he can use his fast hands and look for the knockout. When Brandao is in dominate position on the ground, he can submit his opponent. However, Gambino will likely look to put his opponent on his back and make him show he can get back to his feet.
Prediction: Joey Gambino by decision
Sergio Moraes (6-3) vs. Renee Forte (7-1)
This will be the first fight on the FX preliminary card and the first time that Moraes has been back in the UFC since losing in the finals of TUF: Brazil. He started his career with five straight victories, but has lost two of his last three fights.
Forte will be making his UFC debut in this fight and started his career with six straight victories and his last two wins are by TKO.
Both fighters are known for their ground game, which likely means the fight will be a stand up battle. If the fight goes to the ground, it could be an interesting ground fight.
Prediction: Sergio Moraes by decision