After the two preliminary fights on the UFC Facebook page, the prelims for UFC on FX 5 will continue at 5 p.m ET/2 p.m. PT on FUEL TV.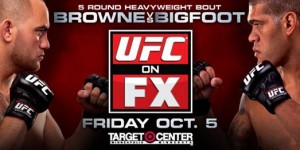 This portion of the preliminary card will have six fights on the card with four of the fights being the the UFC lightweight division.
Jeremy Stephens (20-8) vs. Yves Edwards (41-18-1)
This will be the main event of the preliminary card as both fighters are veterans of the UFC and are coming off losses in their last fight. Stephens is currently on a two fight losing streak, with the losses coming against top contenders Anthony Pettis and Donald Cerrone. This will be his 15th fight in the UFC and may need a win to stay in the company.
Edwards has lost two of his last three fights after being a two fight winning streak. He is coming off a unanimous decision lost to Tony Ferguson at the TUF Finale last December, which he felt he did enough to get the victory.
Both fighters are known for finishing fights with Stephens having 14 wins by knockout and 3 by submission. Edwards as 15 victories by knockout and 17 by submission. Edwards could look to take this fight to the ground to work his submission game, instead of trading strikes with his opponent. No matter what he decides, this has the makings to be one of the best fights on the entire preliminary card.
Michael Johnson (11-6) vs. Danny Castillo (14-4)
Both of these lightweight fighters are currently on a winning streak with Johnson winning his last two fights and Castillo on a three fight winning streak. Johnson entered the UFC through "The Ultimate Fighter" and started training with Jackson's MMA after the reality show. After deciding that Jackson's gym was not the best fit for him, he moved his training to South Florida with the Blackzilians. His last two wins are both by decision with wins over Shane Roller and Tony Ferguson.
Castillo is a member of Team Alpha Male and has won six of his last seven fights, with the only lost coming against Jacob Volkmann in his second career UFC fight. During his recent winning streak, he holds wins over Shamar Bailey, Anthony Njokuani and most recently against John Cholish.
Castillo is a former college wrestler and has used his wrestling in the past to outwork his opponents. Johnson has shown the ability to control wrestlers in his recent fight and this fight will likely go all three rounds and be a close fight.
Dennis Hallman (51-14-2, 1NC) vs. Thiago Tavares (17-4)
This fight was initally scheduled to happen at UFC 151, but the bout had to be moved to another card when 151 was cancelled. Hallman is a MMA veteran, who has won three of his last four fights. In his last fight, he was unable to make the lightweight limit of 156 pounds, but was still able to get a submission victory in the first round.
Tavares is a 12 fight UFC veteran and has gone 4-1-1 in his last six fights. He is currently on a two fight winning streak with wins against Spencer Fisher and Sam Stout. He is known for his submission victories as 11 of his 17 victories.
When Tavares has lost in the UFC, it has been to fighters that are strong in wrestling and submissions, which is the case for Hallman. His striking game has been improving, which he has shown in his last two fights. If Hallman can use his wrestling, he should be able to walk away with a submission victory.
Jacob Volkmann (14-3) vs. Shane Roller (11-6)
This is another fight that was supposed to take place at UFC 151 before it was canceled. Prior to his UFC 146 bout, Volkmann was on a five fight winning streak, with all of the wins coming by decision. He was defeated by Paul Sass at UFC 146 by submission and it was his first lost since the beginning of 2010.
Roller recently snapped a three fight losing streak at UFC 148 against John Alessio and it was his second victory in the UFC. In his fight with Alessio, he was able to dominate the fight with his wrestling and Alessio was unable to get off his back.
Both of these fighters are know for their wrestling and Volkmann is a fighter that needs to start finishing fights. The UFC has sent a message to certain fighters that they are not interested in seeing fights where the winner uses his wrestling for 15 minutes to get a victory. Roller has shown the ability to finish fights and this bout will likely be a striking contest since both of them have a solid wrestling base.
Bart Palaszewski (36-15) vs. Diego Nunes (17-3)
This is the only featherweight bout on the UFC on FX 5 fight card and both fighters enter the bout after a defeat in their last fight. Palaszewski won his UFC debut against Tyson Griffin after coming over from the WEC and lost against Hatsu Hioki at UFC 144.
Nunes came over to the UFC with Palaszewski in the WEC merger and has gone 2-2 in the UFC. He holds wins over former WEC champion Mike Brown and Manny Gamburyan. He is coming off a decision lost to Dennis Siver at UFC on FUEL TV 2.
The key to this fight may end up being the size that Palaszewski will have over Nunes. He will have a three inch high advantage and will look to use that advantage to outwork his opponent.
Darren Uyenoyama (7-3) vs. Phil Harris (21-9)
This will be the first of two flyweight bouts and this will be the UFC flyweight debut of Uyenoyama, who made his UFC debut last year in a bantamweight bout. He was scheduled to take on John Dodson at UFC on FOX 3, but he had to pull out of the fight with an injury.
Harris will be making his UFC debut and has previously competed as a flyweight in the MMA promotion Cage Warriors. He is currently on a five fight winning streak and 13 of his 21 career victories are by submission.
Will Harris be nervous in his UFC debut? He will need to overcome any nerves, plus the takedowns of Uyenoyama. This should be a fast pace bout and Uyenoyama could be a future title contender in the flyweight division.