The UFC on FX 5 Weigh-In's took place this afternoon in Minneapolis and the fight card is now official.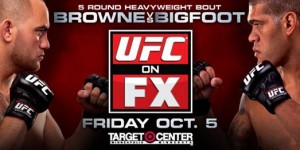 The main event tomorrow night will be a five round fight in the heavyweight division as Travis Browne (246) meets Antonio "Bigfoot" Silva (266).
During the staredown, UFC President Dana White had to get in between the two UFC heavyweights and the fighters looked at each other for a couple of moments.
Two fighters on the card were not on weight and one of the fights has been canceled since the fighter was multiple pounds overweight. First, featherweight fighter Bart Palaszewski was one pound over the featherweight limit of 146 pounds and was given one hour to lose the additional pound, which he was able to do.
Also, Dennis Hallman was scheduled to meet Thiago Tavares on the preliminary card, but the fight was canceled when Hallman was not on weight. According to Ariel Helwani on FUEL TV, Hallman was seven pounds overweight and Tavares was only willing to take the fight if his opponent would only be three pounds overweight.
Hallman was unable to lose the additional weight and the UFC elected to cancel the fight. Tavares was on weight and will be paid his show money. This is now the second straight fight that Hallman has been unable to make weight and his days in the UFC could be over.
The complete UFC on FX 5 Weigh-In results are below:
Main Card: (FX – 8 p.m. ET)
Travis Browne (246) vs. Antonio Silva (266)
Jake Ellenberger (170) vs. Jay Hieron (170)
John Dodson (126) vs. Jussier Formiga (126)
Justin Edwards (170) vs. Josh Neer (171)
Preliminary Card: (FUEL TV – 5 p.m. ET)
Jeremy Stephens (156) vs. Yves Edwards (156)
Michael Johnson (156) vs. Danny Castillo (156)
Jacob Volkmann (155) vs. Shane Roller (156)
Bart Palaszewski (146) vs. Diego Nunes (146)
Darren Uyenoyama (125) vs. Phil Harris (125)
Preliminary Card: (Facebook – 4 p.m. ET)
Carlo Prater (156) vs. Marcus LeVesseur (156)
Aaron Simpson (171) vs. Mike Pierce (171)