During last night's episode of "UFC Ultimate Insider" on FUEL TV, Stephan Bonnar and Forrest Griffin talk about Bonnar's fight on Saturday night against middleweight champion Anderson Silva.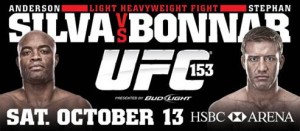 Bonnar wonders if Silva will have Steven Seagal in his corner and what would Seagal do against other actors like Jean-Claude Van Damme and Chuck Norris.
Also, Bonnar receives a call from Chael Sonnen for advice on fighting Silva and says that he will give him advice on his upcoming UFC 155 bout against Griffin.
Check out the entire segment from last night's show below: