The weigh-in's for UFC 153 will take place this afternoon at 3 p.m. ET and will be streamed live on TheMMAReport.com.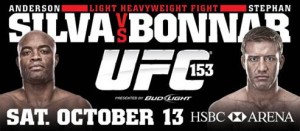 The weigh-in's will take place from the HSBC Arena in Rio de Janerio, which will host tomorrow nights fight card.
Following the conclusion of the weigh-in's, results will be on TheMMAReport.com.
Main Card: (PPV – 10 p.m. ET)
Anderson Silva (30-4) vs. Stephan Bonnar (17-7)
Antonio Rodrigo Nogueira (33-7-1, 1 NC) vs. Dave Herman (21-4)
Glover Teixeira (18-2) vs. Fabio Maldonado (18-5)
Jon Fitch (26-4-1, 1 NC) vs. Erick Silva (14-2, 1NC)
Phil Davis (9-1, 1NC) vs. Wagner Prado (8-0, 1NC)
Demian Maia (16-4) vs. Rick Story (14-5)
Preliminary Card: (FX – 8 p.m. ET)
Rony Jason (12-3) vs. Sam Sicilia (11-1)
Gleison Tibau (34-8) vs. Francisco Trinaldo (11-1)
Diego Brandao (19-8) vs. Joey Gambino (9-1)
Sergio Moraes (6-3) vs. Renee Forte (7-1)
Preliminary Card: (Facebook – 7 p.m. ET)
Luiz Cane (12-4, 1NC) vs. Chris Camozzi (17-5)
Cristiano Marcello (12-4) vs. Reza Madadi (12-2)