The inaugural World Series of Fighting event will take place on November 3rd in Las Vegas and the complete fight card has been announced.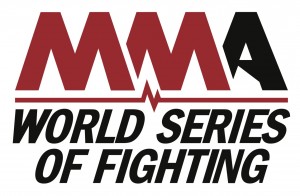 The main card will air on NBC Sports Network with four fights, which will feature former UFC fighters Andrei Arlovski, Anthony Johnson and Miguel Torres.
The organization had previously announced that the main event would see Arlovski take on Devin Cole and they officially announced today that Johnson will meet D.J. Linderman and Torres will take on Marlon Moraes.
"With the addition of these two matchups, we have assembled a complete main card that we feel is stacked from top to bottom with some of the finest talent in the sport of MMA," said World Series of Fighting President Ray Sefo. "MMA has an opportunity to expand its reach on Nov. 3 thanks to the NBC Sports Network platform and World Series of Fighting is going to be sure to make the most of this opportunity in order to take our great sport to unprecedented, new heights."
The current fight card for WSOF 1 is below and the organization will be announcing broadcast details for the preliminary card shortly.
Main Card: (NBC Sports Network – 10:30 p.m. ET)
Andrei Arlovski vs. Devin Cole
Anthony Johnson vs. D.J. Linderman
Miguel Torres vs. Marlon Moraes
Gregor Gracie vs. Tyson Steele
Preliminary Card:
Tyrone Spong vs. Travis Bartlett
Ronys Torres vs. Brian Cobb
Gerald Harris vs. Josh Burkman
JZ Cavalcante vs. T.J. O'Brien
David Branch vs. Dustin Jacoby
Waylon Lowe vs. Fabio Mello
Steve Carl vs. Ramico Blackmon