UFC 154 takes place next Saturday night at the Bell Centre in Montreal and will be headlined by welterweight champion Georges St-Pierre making his return to the UFC and he will face interim welterweight champion Carlos Condit in a unification bout.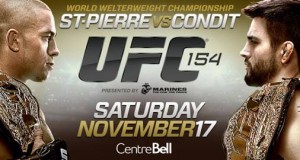 It has been widely talked about that a win by St-Pierre over Condit could set up a potential super fight with St-Pierre and UFC middleweight champion Anderson Silva.
During Wednesday's UFC 154 media conference call, UFC President Dana White confirmed that Silva will be in attendance next Saturday night.
Silva (33-4) has made it known that he would like his next fight to be against St-Pierre, but he has win next Saturday before that can happen.
If Condit defeats St-Pierre next week, White said that Condit will not face Silva in a super fight and that he will defend the welterweight title against the next contender. If St-Pierre does defeat Silva, the middleweight champion will likely confront him in the cage and it could set up a fight in 2013.
The UFC has openly talked about the potential of this fight and having that fight take place in a stadium. White stated yesterday that there are three options the UFC has for a stadium show which are Toronto, Dallas and Brazil.
At this time, St-Pierre has not said if he would take a fight against Silva after Condit and he could elect to defend his title instead of fighting the middleweight champion at a catchweight.