The seventh season of the Bellator Fighting Championships continues on Friday night with Bellator 81, which takes place at the Ryan Center at Rhode Island University.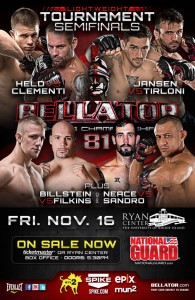 The main card on MTV2 and in commercial free high definition on EPIX HD will feature the two semifinal bouts in the lightweight tournament, which will be Marcin Held (14-2) vs. Rich Clementi (45-21-1) and Dave Jansen (17-2) vs. Ricardo Tirloni (15-2).
The winners of the semifinal bouts will then advance to the final, which is scheduled to take place at Bellator 83 at Caesars Atlantic City on December 7th.
Also on the main card will be two time featherweight tournament finalist Marlon Sandro (22-4) take on former UFC fighter Dustin Neace (23-18-1), who will be making his Bellator debut.
The full Bellator 81 fight card is below:
Main Card: (MTV2/EPIX – 8 p.m. ET)
Marcin Held (14-2) vs. Rich Clementi (45-21-1)
Dave Jansen (17-2) vs. Ricardo Tirloni (15-2)
Dustin Neace (23-18-1) vs. Marlon Sandro (22-4)
Perry Filkins (6-1) vs. Jonas Billstein (10-2)
Preliminary Card: (Spike.com – 6 p.m. ET)
Robbie LeRoux (4-1) vs. Ruben Rey (5-4)
Paul Barrow (4-2) vs. Matt Bessette (8-3)
Valter Roberto (11-6) vs. Brennan Ward (4-0)
Mike Mucitelli (3-0) vs. TBA
Joe Lamoureux (3-1) vs. Dan Cramer (8-3)
Joe McGann (3-1) vs. Andrew Caldandrelli (5-3)