The seventh season of the Bellator Fighting Championships will continue tonight from the Ryan Center in Kingston, Rhode Island and will feature the semifinals of the lightweight tournament.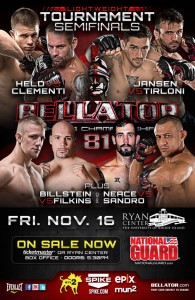 The fight card will begin at 6 p.m. ET with the preliminary card on Spike.com and the main card will start at 8 p.m. ET on MTV2 and EPIX HD.
The winners of tonight's lightweight tournament semifinals will advance to the final, which will take place at Bellator 84 on December 14th in Hammond, Indiana and the winner will receive $100,000 and will earn a title shot in 2013.
Marcin Held (14-2) vs. Rich Clementi (45-21-1)
This will be the main event of the fight card and Clementi will look to win his fourth straight fight and advance to the tournament final. In the quarterfinals, Clementi defeated Alexander "Tiger" Sarnavskiy by decision and Tiger was the favorite to win the tournament. He was able to control the fight by taking the fight to the ground, but struggled in the third round when the fight was standing.
This is the second time that Held has been in a lightweight tournament and his only lost in Bellator has come against the current lightweight champion Michael Chandler. In the quarterfinals of this tournament, he defeated Murad Machaev by decision and showed the improvements in his overall game.
Both of these fighters like to take the fight to the ground, with Clementi having the edge in wrestling. Neither guy is considered a dangerous striker, but Held has shown improvements in that aspect. The cardio of Clementi has been an issue and Held will look to push the pace and wear down his opponent.
Prediciton: Marcin Held via decision
Dave Jansen (17-2) vs. Ricardo Tirloni (15-2)
In the other semifinal bout, it features two fighters that scored submission victories in the quarterfinals of this tournament. Jansen has won four fights in a row and he defeated Magomed Saadulaev, which he won the fight in the third round.
This is the second time that Tirloni has been in the Bellator lightweight tournament and he defeated Rene Nazare in the quarterfinals. He has won two of his three Bellator fights, which he has won both fights by submission.
These two fighters may be the best left in this tournament and both fighters like to take the fight to the ground and use their submissions. Tirloni has a slight advantage in the striking aspect, but Jansen has shown he has a great chin. Tirloni will need to stop the takedowns of Jansen and stay away from being on his back.
Prediction: Dave Jansen by decision
Dustin Neace (23-18) vs. Marlon Sandro (22-4)
Sandro returns to Bellator after his Summer Series featherweight tournament final lost to Daniel Straus. It was the second time that he has made it to the featherweight tournament final and he has gone 5-2 in Bellator. If he is able to get a win tonight, he should find himself in the next featherweight tournament.
Neace is a former UFC fighter, who was a contestant on "The Ultimate Fighter 14" and was a member of Team Miller. After losing in the finale, he was released by the UFC and this is his first fight since that lost. He is 5-3 in his last eight fight and is currently on a two fight losing streak.
Sandro likes to come out early in his fights and look for the finish. He has the ability to finish this fight standing, but the gameplan could be to take the fight to the ground and look for a submission. Neace has been submitted in 12 of his 18 losses and his last two losses are by submission.
Prediction: Marlon Sandro by submission in first round
Jonas Billstein (10-2) vs. Perry Filkins (6-1)
This will be the opening fight on the main card tonight and Filkins will be making his Bellator debut. He is currently on a four fight winning streak, with all six of his victories are by knockout and his last four wins have come in the first round.
Billstein started his career with nine straight victories, but has lost two of his last three fights. He has gone 1-1 in Bellator and scored his first Bellator victory earlier this year with a submission win against Mike Seal.
Both fighters will be looking to impress Bellator officials tonight in hopes of being placed into a tournament in 2013. Both fighters are finishers, with both guys having a combined 13 wins by knockout. It's unlikely this fight will last the distance and it may not make it out of the first round.
Prediction: Perry Filkins via TKO in first round