The seventh season of the Bellator Fighting Championships continued with a successful trip to Ryan Center in Kingston, Rhode Island for Bellator 81.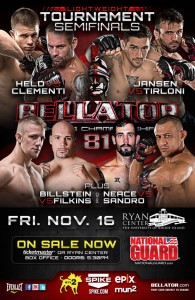 The night was headlined by the lightweight tournament semifinals which included Marcin Held vs Rich Clementi and Dave Jansen vs Ricardo Tirloni.  In other action, fans were treated to an extremely dominant performance by Marlon Sandro.
The first lightweight tournament semifinal bout featured Marcin Held facing off against UFC veteran Rich Clementi in what turned out to be a submission clinic.
The first round saw both fighters going for everything from heel-hooks to leg-locks to even knee-bars.  At one point, both fighters had opposing leg-lock submissions on one another on the ground.  Definitely a treat to anyone who loves very technical ground match ups.
The second round was much the same as it opened with Clementi taking Held down and Held fishing for leg-locks early.  As the round wore on, Held suckered Clementi into his game yet again, but this time forced the tap due to a toe-hold that was extremely tight at the 3:04 mark.  With the victory Marcin Held punched his ticket to the Lightweight finals at Bellator 84.
The second lightweight tournament semifinal bout featured Dave Jansen and Ricardo Tirloni in what ended up being an absolute fight-of-the-night.  From start-to-finish the fight was a non-stop roller-coaster that you just simply couldn't stop watching.
The first round started out with fireworks and both fighters landing heavy blows.  As the round wore on Dave Jensen started getting the better of the striking exchanges and finished the round off with several highlight-reel suplexes.
The second round slowed down a bit with Tirloni getting the better of the early striking exchanges.  Jensen wasn't able to mount much offense in the round overall and got sucked into Tirloni's tai plum several times.  The round ended with a couple of little flurries by Jensen which potentially cast sound doubt in the judges minds.
The final round was a mixture of the two previous rounds.  Both fighters tried establishing themselves in different ways as Tirloni continued to use in-and-out movement and counter  punching while Jensen utilized his aggression and suplexes.  Eventually the aggression and suplexes won out and Dave Jensen stole a split decision victory and moved onto the Lightweight finals against Marcin Held at Bellator 84.
In other action, Bellator fans were treated to the return of Marlon Sandro as he put on another clinic against Dustin Neace.  Neace made the proverbial mistake of trying to bring Sandro down and be aggressive.  The plan backfired as the crafty veteran put on a striking clinich from the top-position which eventually led to Sandro putting Neace to sleep via a technical submission RNC at the 2:05 mark of RD1.
Main Card: (MTV2/EPIX2)
Marcin Held defeats Rich Clementi via Submission (Toe-Hold) RD2 @ 3:04
Dave Jansen defeats Ricardo Tirloni via Split Decision (29-28 29-28 28-29)
Marlon Sandro defeats Dustin Neave via Technical Submission (RNC) RD1 @ 2:05
Perry Filkins defeats Jonas Billstein via Unanimous Decision (30-27 29-28 29-28)
Preliminary Card: (Spike.com)
Andrew Caldandrelli defeats Eric Brown via Submission (Arm-Bar) RD2 @ 3:10
Dan Cramer defeats Joe Lamoureux via TKO RD1 @ 3:26
Murad Machaev defeats Lorawnt-T Nelson via Unanimous Decision (30-27 30-27 30-27)
Mike Mucitelli defeats Matt Uhde via Submission (Arm-Bar) RD1 @ :26
Brennan Ward defeats Sam McCoy via KO RD1 @ 2:49
Matt Bessette defeats Paul Barrow via Unanimous Decision (29-28 30-27 30-27)
Ruben Rey defeats Robbie LeRoux via Unanimous Decision (30-27 30-27 30-27)