Carlos Condit will have the biggest fight of his career tomorrow night when he takes on Georges St-Pierre in a welterweight title unification bout.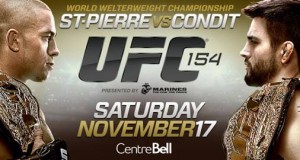 He earned the chance to take on St-Pierre when he defeated Nick Diaz at UFC 143 to become the interim welterweight champion.
After today's weigh-in's, he admitted that he has been preparing for this fight since he started training in mixed martial arts.
"This fight is basically the culmination of a long time training, a lot of hard work," Condit said. "You know, I haven't only been thinking about fighting Georges for the last year, but I've been thinking about fighting Georges my entire career. I am extremely excited to put on a good fight for the Montreal fans."
When he walks into the octagon tomorrow night at the Bell Centre in Montreal, the crowd will be against him since St-Pierre is from Montreal. "The Natural Born Killer" is not concerned about this and he is ready to show the world what he can do inside the cage.
"I want to go in and exhibit my skills. I love to fight and want to show off my skills. I've changed up my training from a couple of years ago. I'm more diligent about training now. I train year-round, so I don't have to get back in shape between fights. I'm already in shape."
When it comes to how he sees himself winning against tomorrow night, he believes he will finish his opponent and become the undisputed UFC welterweight champion.
"I'm going to finish him. I'm going to finish Georges."