Carlos Condit was unable to become the unified UFC welterweight champion last night when he was defeated by Georges St-Pierre in the main event of UFC 154.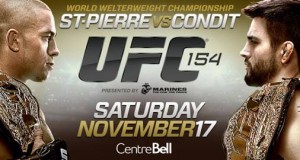 Condit had his moment in the fight where he landed a head kick that dropped his opponent, but was unable to get the finish.
In his post fight interview on FUEL TV, Condit reflected on the fight and knows that the wrestling aspect of the fight was the difference for St-Pierre.
"He is one of the best guys that has ever gone into the Octagon and he showed it all tonight," Condit said. "I had the edge in some aspects, but the wresting and the top game he had me on."
"The Natural Born Killer" did take same positives away from the fight, but wish the outcome would have been in his favor.
"Definitely. Like I said, I would have liked a different outcome, but I left it all in the cage and I fought to my best ability tonight and that's all I can do."
It's unknown what may be next for Condit, which this was only the second time that he has been defeated in the UFC. He plans to head home, reevaluate the situation and see what the UFC has in store for him. Potential fights for him in his next fight could include rematches with Martin Kampmann, who is his other UFC lost or former Strikeforce champion Nick Diaz.