UFC 154 takes place on Saturday night from the Bell Centre in Montreal, Quebec, Canada and the card will be headlined by Georges St-Pierre meeting Carlos Condit in a welterweight title unification bout.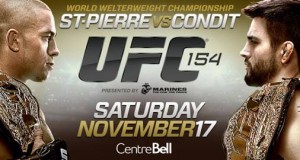 The fight card will begin on the UFC Facebook page at 6:20 p.m. ET with four preliminary bouts and all fans have to do to view these fights is "like" the UFC on Facebook.
Antonio Carvalho (14-5) vs. Rodrigo Damm (10-5)
This will be the last fight on the Facebook portion of the preliminary card and this will be the third time that Carvalho has stepped into the UFC cage. He has gone 1-1 in the UFC and defeated Daniel Pineda at UFC 149 in his last fight. He won the fight in the first round by knockout and it was his seventh career victory by knockout.
Damn is a veteran of Strikeforce and was one of the contestants on "The Ultimate Fighter: Brazil." He won his official UFC debut at UFC 147 against Anistavio Medeiros by submission in the first round and won the submission of the night bonus.
Damm has fought tougher competition in his career with losses against Gilbert Melendez, Justin Wilcox and Maximo Blancao. He has finished his opponent in eight of his ten victories. Carvalho has never been defeated by submission in his career and will have to stay away from the submissions of his opponent. This should be a close fight and could go either way.
Prediction: Rodrigo Damm by decision
Matthew Riddle (6-3, 1NC) vs. John Maguire (18-4)
Riddle recently came off suspension after he tested positive for marijuana following his UFC 149 bout against Chris Clements. He originally won the fight by submission in the third round, but the fight was declared a no contest after the positive drug test. His entire professional career has been in the UFC and is 3-2, 1NC in his last six fights. He was placed on this card as an injury replacement for Stephen Thompson to face Besam Yousef, but Yousef pulled out of the fight with an injury.
Maguire took this fight on short, just like Riddle did and he is coming off his first UFC lost at UFC on FUEL TV 5 against John Hathaway. Prior to the lost to Hathaway, he had won his first two UFC fights and was on a seven fight winning streak. Ten of his victories are by submission and he won the submission of the night bonus in his UFC debut.
Both fighters like to take the fight to the ground and work there game from the mat. Riddle will have a size advantage in the fight with a 6 inch reach advantage and he is 3 inches taller than his opponent. Because of the size disadvantage, Maguire will likely have a tough time in attempting to get the fight to the ground and working his submission game.
Prediction: Matthew Riddle by decision
Ivan Menjivar (24-9) vs. Azamat Gashimov (7-1)
After coming to the UFC after the WEC merger, Menjivar opened his UFC career with three straight victories before being defeated by Mike Easton at UFC 148 by decision. Two of his three UFC victories are by stoppage and was seen as a potential title contender heading into the fight with Easton.
This will be the UFC debut for Gashimov. He was scheduled to make his debut earlier this year, but he had to pull out of his UFC on FUEL TV 3 bout against Alex Soto because of an injury. He has competed in Russia and the Ukraine and six of his seven victories are by stoppage.
With Gashimov making his UFC debut in this fight, will he be nervous in the fight? Some fighters enter the octagon and struggle in their first fight and he will have to stop the takedowns of Menjivar. Gashimov trains alongside fellow UFC fighter Khabib Nurmagomedov. He is a Combat Sambo and BJJ fighter and look for him to attempt to keep this fight on the ground.
Prediction: Ivan Menjivar by decision
Steven Siler (21-9) vs. Darren Elkins (14-2)
This will be the opening bout of the fight card and Siler will look for his fourth straight win in this fight. He has won seven of his last eight fights and has gone 3-0 since entering the UFC via "The Ultimate Fighter." After winning by decision in his first two UFC fights, he defeated Joey Gambino by submission in the first round at UFC on FX 4. It was his 13th career win by submission and the 13th time he has finished a fight in the first round.
Elkins entered the UFC in 2010 and has won four of his fight fights in the organization and is currently on a three fight winning streak. After losing to Charles Oliveira, he dropped down to the featherweight division and all three wins in his current winning streak have come by decision.
Siler has proven in the past that he is dangerous with his submissions and Elkins likes to use his wrestling to frustrate his opponent. With both fighters having a good ground game, the fight may end up being a striking bout. Siler will need to stop the takedowns of Elkins and not allow his opponent to work his ground game. On the other hand, if Elkins gets the fight to the ground, he will have to watch out of the submissions of Siler.
Prediction: Steven Siler via decision