After the UFC 154 preliminary card on the UFC Facebook page, the preliminary card will move to FX at 8 p.m. ET with four fights.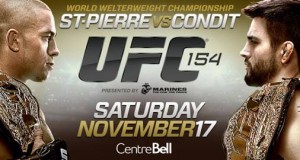 This portion of the preliminary card will feature several Canadian fighters and the fights will take place in the lightweight, light heavyweight and middleweight divisions.
Patrick Cote (18-8) vs. Alessio Sakara (19-9, 1NC)
This will be the headliner of the preliminary card and Cote will be looking for his UFC victory since 2008. He is a former title contender in the UFC middleweight division and is in his second stint in the UFC. He made his return to the UFC earlier this year and was defeated by Cung Le at UFC 148 by decision.
Sakara is a 13 fight veteran of the UFC and is currently on a two fight losing streak, which the losses came against Chris Weidman and Brian Stann. Prior to this losing streak, he had won three in a row, which included two wins by knockout.
When Sakara has been defeated in the UFC, it has been by knockout. The weakness in his game is his striking defense and Cote will look to attack him in the striking. With his shaky chin, look for Cote to keep the fight standing and look for a knockout.
Prediction: Patrick Cote by TKO in first round
Cyrille Diabate (19-8) vs. Chad Griggs (11-2)
This will be the UFC light heavyweight for Griggs and Diabate will look for back to back victories for the first time in his UFC career. Diabate has gone 3-2 in the UFC with wins against Luiz Cane, Steve Cantwell and Tom DeBlass. His win over DeBlass came at UFC on FUEL TV 2, which was a decision victory and two of his three UFC victories are by decision.
Griggs is a former Strikeforce heavyweight that made his UFC debut earlier this year against Travis Browne and was defeated in the first round. Following the fight, Griggs decided he would move down in weight and this will be his first fight as a light heavyweight.
Both of these fighters are strikers and the weakness with Diabate is his wrestling, but Griggs does not have the wrestling to take advantage of the weakness. Diabate will have a reach advantage of 8.5 inches and is 5 inches taller than Griggs. The question going into the fight will be if cardio will be an issue for Griggs since this is his first time he is cutting down to light heavyweight.
Prediction: Cyrille Diabate by decision
Mark Bocek (11-4) vs. Rafael Dos Anjos (17-6)
Both fighters will enter the octagon on Saturday night riding a two fight winning streak and Bocek will be looking for his eighth victory in the UFC. He has gone 7-4 in the organization with the losses coming against Frankie Edgar, Mac Danzig, Jim Miller and Benson Henderson. Four of his seven UFC victories have come by decision and has won the submission of the night bonus on two occasions.
After dropping his first two fights in the UFC, Dos Anjos has gone 6-2 with wins over George Sotiropoulos, Kamal Shalorus and Anthony Njokuani. Three of his last four wins have come by stoppage, which includes a submission of the night win against Terry Etim at UFC 112.
Bocek likes to take his fights to the ground, but Dos Anjos has shown an improvement in his takedown defense. If Bocek is unable to get the fight to the ground, he will be in trouble and Dos Anjos should be able to win the stand up portion of the fight.
Prediction: Rafael Dos Anjos by decision
Sam Stout (19-7-1) vs. John Makdessi (9-2)
This will be the first fight on the FX portion of the preliminary card and Stout will look for back to back wins. He has won five of his last seven fights, which he has won a fight night bonus in five of those fights. He has won five fight of the night bonuses in his UFC career and is coming off a win against Spencer Fisher at UFC on FX 4.
Makdessi will be looking to snap a two fight losing streak, with the losses coming against Dennis Hallman and Anthony Njokunai. In his fight with Njokuani, he missed weight for the fight and the fight ended up being a catchweight of 158.5 pounds.
Stout should be able to win this fight and Makdessi has to win this fight to stay in the UFC. Stout has the advantage in most aspects of the fight and should win this fight easily.
Prediction: Sam Stout by TKO in second round