Georges St-Pierre will return to the octagon for the first time in 19 months as he will take on Carlos Condit in the main event of UFC 154.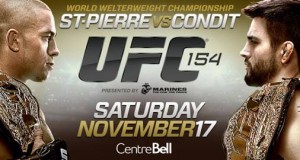 Tonight's action will come from the Bell Centre in Montreal, Quebec, Canada and the pay-per-view will begin at 10 p.m. ET with five fights.
Along with the welterweight title fight, the pay-per-view will also see another welterweight bout that could determine the next title contender when Martin Kampmann meets Johny Hendricks.
Georges St-Pierre (22-2) vs. Carlos Condit (28-5)
This will be the first time since UFC 129 that St-Pierre has stepped into the octagon and he admitted that he nearly called UFC President Dana White during his recovery from knee surgery that he was going to retire. However, he has regained his love for the sport and will look for his ten straight win tonight.
Condit is currently on a five fight winning streak and has gone 13-1 in his last 14 fights, which included him being the last WEC welterweight champion. Three of his last four wins are by knockout and he has only gone to a decision four times in his career.
Will St-Pierre experience cage rust? Most likely he will, but how long will the rust last for him? He has been working on his striking defense during his training camp and will need to stay out of big exchanges with his opponent. On the other hand, Condit will need to stop the takedowns of St-Pierre and not allow the fight to go to the ground. Both fighters will be looking for the finish and the longer the fight goes, it could be an advantage for Condit.
Prediction: Georges St-Pierre by decision
Martin Kampmann (20-5) vs. Johny Hendricks (13-1)
The winner of this fight may end up being the next title contender for the welterweight title and these guys once trained together. Kampmann is currently on a three fight winning streak and he has won a fight night bonus in his last two fights. He is coming off a knockout victory over Jake Ellenberger and 15 of his wins are by either knockout or submission.
Hendricks entered MMA after being a college wrestler at Oklahoma State and has gone 8-1 since entering the UFC in 2009. He is currently on a four fight winning streak, which included a knockout of the night victory against Jon Fitch at UFC 141 last year.
Both fighters are known as finishers and that will likely happen in tonight's fight. Even though his background is in wrestling, Hendricks has become a feared striker in the UFC because of his left hand. Kampmann can finish the fight standing or on the ground and this is a fight that will likely be a stand up battle.
Prediction: Martin Kampmann by TKO in second round
Francis Carmont (19-7) vs. Tom Lawlor (8-4, 1NC)
Carmont is a training partner of St-Pierre and will be seeking his ninth straight victory. He has opened his UFC career with three straight victories and his last two wins have come by submission. He has only gone the distance once in his last eight fights and has only seen the third round one time in those fights.
This will be the eighth UFC fight for Lawlor and he will look for back to back victories, which he has not done since his first two fights in the UFC. He is known for his entrances into the cage and is coming off a first round knockout victory at UFC on FUEL TV 3 against Jason MacDonald.
Two of Lawlor's four career defeats are by submission and he will have to stay away from allowing Carmont to work his submission game. He will need to keep the fight standing and stay away from the ground game. On the other side, look for Carmont to use his striking to take the fight to the ground and he will then begin to look for submissions.
Prediction: Francis Carmont by submission in second round
Nick Ring (13-1) vs. Constantinos Philippou (11-2, 1NC)
Some fans calls Ring one of the luckiest fighters in the UFC as two of his three UFC victories are by close decision. In his last fight, he defeated Court McGee by unanimous decision, even though he was dominated in the third round.
After losing his UFC debut last year, Philippou has won four in a row and three of his wins are by decision. During his time in the UFC, he has proven that he can control the fight on the feet and wear down his opponent.
Both fighters have common opponents in McGee and Riki Fukuda. Both fighter won those bouts by decision and this fight will likely go the distance. Ring has shown he has a great chin and can take damage and keep coming at his opponent. The gameplan for Ring will likely be to take the fight to the ground and get away from the boxing of his opponent.
Prediction: Constantinos Philippou by decision
Mark Hominick (20-11) vs. Pablo Garza (12-3)
This will be the first fight on the pay-per-view tonight and Hominick will look to snap a three fight losing streak. After losing to Jose Aldo, he was knocked out in seven seconds by Chan Sung Jung and he lost a close decision to Eddie Yagin at UFC 145.
Garza will also be looking to snap a losing streak, as he has lost two in a row and his last win came at UFC 129. After coming to the UFC in the WEC merger, he opened with two straight wins, which he won a fight night bonus in each fight.
Garza is a tall featherweight (6'1) and will have a four inch reach advantage against Hominick. If Hominick can stay away from brawling and fight a technical striking fight, he should be able to snap his losing streak.
Prediction: Mark Hominick by decision