The UFC 154 Weigh-In's took place on Friday afternoon at New City Gas in Montreal and the fight card is official with 13 fights.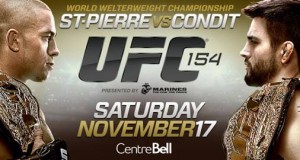 Tomorrow night's card will be headlined by Georges St-Pierre (170 lbs) facing Carlos Condit (169 lbs) in a welterweight title unification bout.
Following the weigh-in's, St-Pierre told UFC commentator Joe Rogan that he missed the sport and he is happy to be back.
"I missed this so much," said St-Pierre. "You guys can't believe it. I'm going to give you a great show. Don't miss it."
The full UFC 154: St-Pierre vs. Condit weigh-in results are below:
Main Card: (PPV – 10 p.m. ET)
Georges St-Pierre (170) vs. Carlos Condit (169)
Martin Kampmann (171) vs. Johny Hendricks (171)
Francis Carmont (185) vs. Tom Lawlor (184)
Nick Ring (184) vs. Constantinos Philippou (185)
Mark Hominick (145) vs. Pablo Garza (145)
Preliminary Card: (FX – 8 p.m. ET)
Patrick Cote (185) vs. Alessio Sakara (186)
Cyrille Diabate (206) vs. Chad Griggs (205)
Mark Bocek (156) vs. Rafael Dos Anjos (155)
Sam Stout (154) vs. John Makdessi (155)
Preliminary Card: (Facebook – 6:20 p.m. ET)
Antonio Carvalho (145) vs. Rodrigo Damm (145)
Matthew Riddle (170) vs. John Maguire (171)
Ivan Menjivar (135) vs. Azamat Gashimov (135)
Steven Siler (145) vs. Darren Elkins (145)