The first UFC pay-per-view fight card of 2013 will take place on February 2nd in Las Vegas as Jose Aldo defends his UFC featherweight title against former lightweight champion Frankie Edgar in the main event of UFC 156.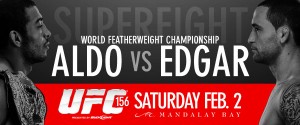 The card will come from the Mandalay Bay Events Center in Las Vegas and the organization has announced that tickets will go on sale this week, with the pre-sale beginning on Wednesday and the general tickets will go on sale on Friday.
Along with the featherweight title fight, the card will see former Strikeforce heavyweight champion Alistair Overeem take on Antonio "Bigfoot" Silva, former light heavyweight champion Rashad Evans meet Antonio Rogerio Nogueira and Jon Fitch square off against Demian Maia in a welterweight bout.
"Jose Aldo vs. Frankie Edgar is a fight the fans have wanted to see for a long time and on Feb. 2, the superfight is going to happen," UFC President Dana White said. "Our fights on Super Bowl weekend are always some of the biggest and best and this year will be no different. In addition to the Aldo vs. Edgar featherweight title fight, we've got Alistair Overeem vs. 'Bigfoot' Silva, Rashad Evans vs. 'Lil Nog,' and Jon Fitch taking on Demian Maia."
Tickers for UFC 156: Aldo vs. Edgar will go on sale to the public on Friday at 3 p.m ET/12 p.m. PT and are priced at $750, $500, $350, $225, $125 and $75. Tickets will be available at Ticketmaster.com, ManadalayBay.com and by phone with Ticketmaster at (800) 745-3000.
UFC Fight Club members will have the ability to purchased tickets on Wednesday at 3 p.m ET/12 p.m. PT via the UFC Fight Club website. There will also be a internet pre-sale for UFC newsletter subscribers on Thursday at 3 p.m ET/12 p.m. PT and to subscribe to the UFC newsletter is available on UFC.com.
The current UFC 156 card is below:
Jose Aldo (21-1) vs. Frankie Edgar (14-3)
Alistair Overeem (36-11) vs. Antonio Silva (17-4)
Rashad Evans (17-2-1) vs. Antonio Rogerio Nogueira (20-5)
Jon Fitch (24-4-1) vs. Demian Maia (17-4)
Urijah Faber (26-6) vs. Vaughan Lee (12-8-1)
Erick Silva (14-3) vs. Jay Hieron (23-6)