The UFC held a media conference call on Tuesday afternoon for next week's UFC on FOX 5 card, which will come from KeyArena in Seattle.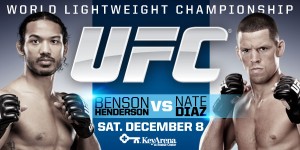 On today's call was UFC President Dana White, FOX Sports Media Group President Erick Shanks, UFC lightweight champion Benson Henderson, Nate Diaz, BJ Penn, Rory MacDonald and Mauricio "Shogun" Rua.
The full conference call is below and here what all of them had to say about next week's UFC on FOX 5 card and various other items involving the UFC.