Earlier this year, Bellator MMA announced that they had signed Renato "Babalu" Sobral and the organization has announced he will make his debut against Mikhail Zayats.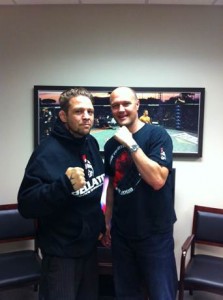 The fight will take place on January 17th at Bellator 85 and will be a quarterfinal bout in the season eight light heavyweight tournament.
Babalu (37-9) is a veteran of UFC, Strikeforce and Affliction and is a former Strikeforce light heavyweight champion. After being on a five fight winning streak from late 2007 to early 2009, he has gone 2-2 in his last four fights.
After losing to Dan Henderson in Strikeforce at the end of 2010, he did not return to MMA until earlier this year at the ONE FC event in June. At that event, he defeated Tatsuya Mizuno in 31 seconds by submission.
Zayats (19-6) will be making his Bellator debut in this fight and this will be his fourth fight in the United States. He is currently on a five fight winning streak and has won nine of his last ten fights. His only lost in his last ten fights came against Vinny Magalhaes, which he was defeated by TKO in the third round.
Bellator 85 takes place on January 17th and will be the first Bellator fight card on Spike TV. The card will take place for The University of California's Bren Center in Irvine, California and will be headlined by Michael Chandler defending the Bellator lightweight title against Rick Hawn and Pat Curran defending the Bellator featherweight title against Patricio Pitbull.