Former Bellator bantamweight champion Zach Makovsky will return to the Bellator cage on Friday night for the first time since losing the title when he takes on Anthony Leone on the main card of Bellator 83.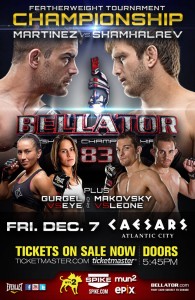 Makovsky was defeated was defeated by Eduardo Dantas at Bellator 65 in April, which was his first title defense since winning the inaugural Bellator bantamweight tournament during the third season.
He knows that losing is apart of the sport, but he knows that he has to grow from this experience and move forward.
"I am always looking to improve and develop my game," Makovsky said. "The thing about this, is why have to be able to handle winning and losing and you have to learn and grow from both of them. Losing is apart of the sport and obviously you don't want that to happen. If you can grow and learn from every experience, that is what success is really about."
He did make changes in how he trains, which included making trips to Montreal to train at Tristar Gym. His opponent on Friday night has competed in several major MMA promotions and Makovsky feels that Leone is similar to him.
"I think Leone is a pretty tough guy. I think in a lot of way, he is similar to me. He is pretty well rounded, likes to wrestler and grappler a little more than the stand up, but he is a good fighter."
If he is able to get a win on Friday night over Leone, expect to see Makovsky in the next Bellator bantamweight tournament, which is scheduled for the beginning of 2013.