At this time, it's unknown on who UFC welterweight champion Georges St-Pierre will face next, but a potential opponent for his title could be Johny Hendricks.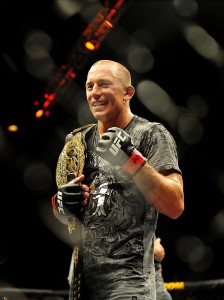 Hendricks only needed 46 seconds to knockout Martin Kampmann in the co-main event of UFC 154 and has stated that he plans to wait for St-Pierre, even if he decides to take a super fight with middleweight champion Anderson Silva.
During last night's episode of "Inside MMA" on AXS TV, Greg Jackson, who is one of St-Pierre's trainers believes that Hendricks does pose problems for the UFC champion.
"The guy (Hendricks) has a big bomb, he is good at wrestling and I think he is going to pose a lot of problems," Jackson told Bas Rutten. "He really have our eye on him."
Jackson went on to say that he does not know if St-Pierre will decide to face Silva in a super fight and he will leave that decision up to the fighter. If St-Pierre does decide on accepting the super fight, he will be there to help him out for the training camp.
If St-Pierre elects to decline the super fight, a title defense against Hendricks or someone else could take place sometime in the first half of 2013.