Paul Daley was scheduled to be a participant in the Bellator season eight welterweight tournament, but Daley has been pulled from the tournament.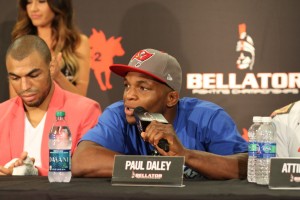 Reports began to circulate online yesterday that Daley had been pulled out of the tournament because he was arrested in England and charged with assault after being in a bar brawl.
The Bellator fighter has released a statement on the situation, which he has confirmed he will not be in the next Bellator welterweight tournament but says he was not involved in a bar brawl.
"It's seems as those a mass press release has gone out to the MMA media, stating I was involved bar brawl, arrested, and cannot obtain a P-1 visa to compete in the USA," Daley wrote on his Facebook page. "I am currently awaiting a decision on my visa, which is not expected until late April. Which means i am unable to compete in the season 8 Bellator tournament, as it starts in January. I will be fighting in Europe in the coming months, so I am able to stay active while awaiting a decision on my visa status. I was not involved in a bar brawl. This is 100% a false statement."
His fight in Europe he mentioned in his statement will take place on February 23rd in Dublin, Ireland at Cage Contenders 16 and the organization has not announced his opponent at this time.
Bellator MMA has not released an official statement on this situation at this time and it's unknown who will replace Daley in the upcoming welterweight tournament.